Summary
New to competitive gaming? Learn all you need to know about Counter-Strike: Global Offensive
A newbies guide to CS:GO & Comic Con
The VS Gaming Masters and Championships have found a new home at this year's first official Comic Con Africa. The event takes place at the Kyalami Grand Prix Circuit and International Convention Center on September 14th – 16th, in partnership with Reed Exhibitions. This year, two Masters stages will feature on the main expo floor, while the VS Gaming Championships (formerly the DGC) will happen in the pits alongside the historic Kyalami Grand Prix Circuit.
Comic Con Africa will see a new type of audience being introduced to the world of competitive gaming (esports) and with that comes some much-needed explanations of what each game is about, and what we can expect.
VS Gaming has a total of 9 competitive games taking place this year, with Counter-Strike: Global Offensive and Dota 2, the "Masters" titles, being two of the toughest competitions in many years.
In this article series, we will take a closer look at some of the games taking place at Comic Con Africa in September. Today, let's look at Counter-Strike: Global Offensive.
What is Counter-Strike: Global Offensive (CS:GO)?
Counter-Strike: Global Offensive, popularized by its predecessor Counter-Strike 1.6, is often debated as the esport which started it all. It's a game where 10 players, 5 on each side, play in an objective based game where the Terrorists need to plant a bomb on one of two bombsites on a map, while the Counter-Terrorists are poised to stop them or defuse the bomb if it gets planted.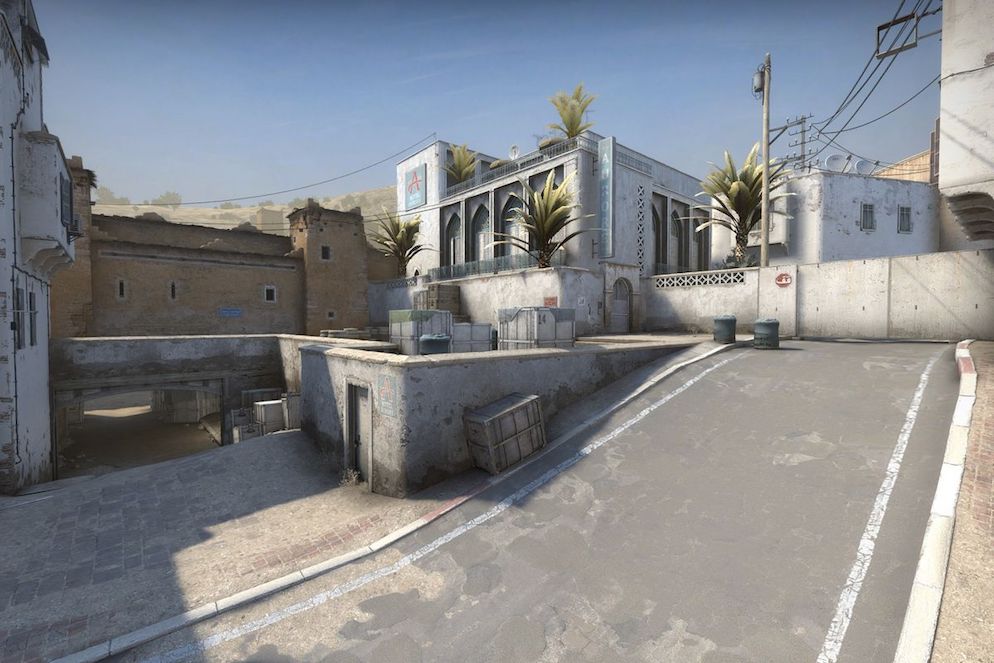 An example of Bombsite A on the Map Dust 2.
There are currently 7 active maps which teams can choose to play on. Often three are chosen through an elimination process, which adds an element of strategy for teams who might be stronger on certain maps. Each map follows the exact same bomb scenario explained above. Teams, on both sides, are awarded money for winning rounds or killing their opponents, and this money is used to buy weapons ranging from Sub-Machine Guns, Rifles, Sniper Rifles and other utilities such as grenades.
A total of 30 rounds are played with teams switching sides at 15 rounds. Each round is 2 minutes and 15 seconds long unless the bomb is planted which then takes 35 seconds to explode if the Counter-Terrorists are unable to defuse it. The bomb adds 35 seconds irrespective of the round time. The winning condition is reaching 16 rounds first. If a draw happens (15-15) the game will go into overtime where 6 rounds are played, switching at 3. The first team to reach 4 rounds (out of the 6) wins. If a tie happens again, the process is repeated until one team wins.
Teams To Watch
The Masters Division is currently in its final leg, and with the absence of Bravado Gaming - one of South Africa's strongest teams – it's an open playing field. The games have been exciting and closer than ever before. Newcomers Big 5 Esports have been dominating the leaderboard, topping the previous leg and currently are at the top again.
Goliath Gaming, also new to the Masters Division, have had their fair share of ups and downs throughout the online leg. Despite their shortcomings, Goliath gaming still remains one of the strongest teams on LAN, shortly followed by LeetPro Esports.

LeetPro is also a new organization in the Masters, but the team is filled with some familiar faces who have competed in South Africa's biggest competitions throughout the years. These three teams, as it stands, are strong contenders for the title at Comic Con, but anything can happen come the finals weekend.
Be sure to follow VS Gaming for more updates as we embark on the Road to Comic Con.