Summary
Leg 3 has come to and end, and Big 5 Esports have positioned themselves as a top competitor as we get closer to Comic Con Africa.
Big 5 Top Leg 3 CS:GO Masters
Esports organisation Big 5 secured a flawless rise to the top of the log in their inaugural run in the VS Gaming Masters in CS:GO as Leg 3 comes to a close. The Road to Comic Con is nearing its final turn as Leg 4 awaits, but what kept the aptly named team ahead of their competition? Let's dig a bit deeper.
At the helm of Big 5 sits Thulani 'LighteRTZ' Sishi, a Counter-Strike: Global Offensive veteran who has competed in some of South Africa's top organisations such as Energy Esports and Bravado Gaming. Making international appearances for both squads, LighteRTZ has brought his wealth of knowledge to the forefront of Big 5 as they took a 7–0 finish in Leg 3.
While a strong leader makes a great pack, the rest of Big 5 deserve their accolades. Forming a combination of some of South Africa's top CS:GO talent, each player had their moments throughout the online competition, but if we here at VS Gaming had to pick favourites, it would be Josh 'BlazE' Saunders and Alexander 'Spartan' Lazarides.

Taking nothing away from the other three players, Jean 'KustoM' Herbst continued his surgical removals of opponents while Hadlee 'Konvict' Smith remained the sharpshooter with his AWP.
Big 5 ended their campaign on Sunday night against XTC Esports in a tough best-of-three which went 2–1. The broadcast can be found below.
While Big 5 hold a substantial lead with 21 points, the final leg will settle the seeds for Comic Con Africa.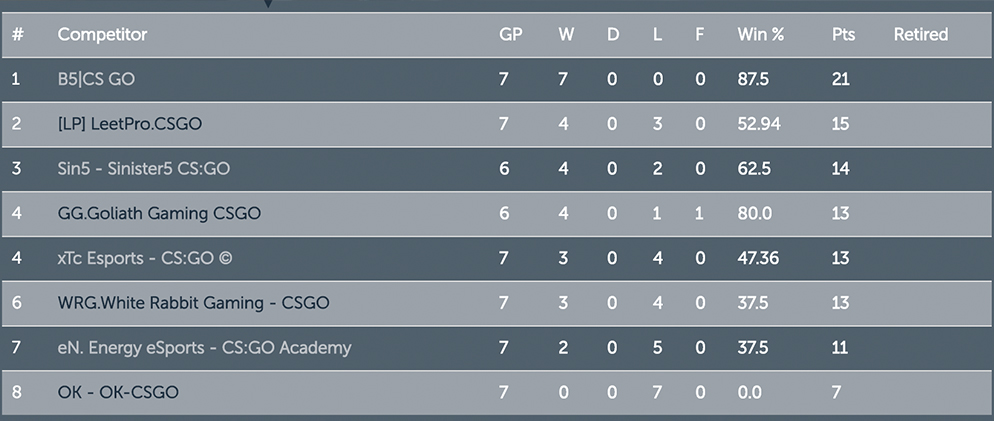 Teams to keep an eye on as Leg 4 gets underway would definitely be XTC Esports, LeetPro, Sinister5 and Goliath Gaming. This is, in my opinion, the tightest the Masters competition has been for quite some time. The noticeable absence of Energy Esports and Bravado Gaming has left an opening for new teams to rise and challenge themselves.
VS Gaming will continue their broadcasting of the CS:GO Masters once Leg 4 gets underway.
Ticket's for the Comic Con are available through Computicket. Be sure to grab yours now!